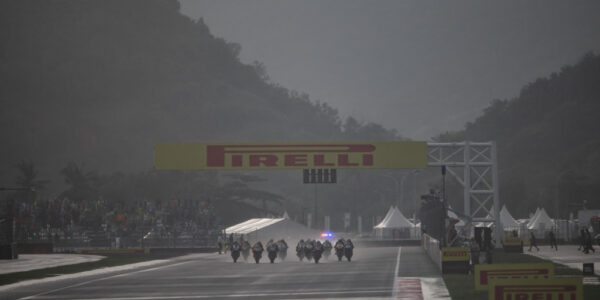 THE AMAZING LOMBOK ISLAND WELCOMES WORLDSBK, PENULTIMATE ROUND, MANDALIKA CIRCUIT!
Mandalika, Kuta Lombok, the beautiful island of Lombok gets ready to welcome Round 11 WorldSBK! Tropical climate, palm trees around the track and the ocean that almost comes to some sections of the brand new structure, transform the event into something unique and awaited all year round. The atmosphere and the people around the circuit, as well as in the particular town of Kuta, contribute to giving a magical touch to the Round!
After the complicated weekend lived in Argentina, due to some physical problems, Philipp Oettl and Team Go Eleven are looking for revenge in Indonesia; returning to important positions and fighting for the Top Ten will be the primary objective. In the two weeks off before the event, the German rider was able to focus his attention to his left arm, specializing his training. Furthermore, here in Mandalika, the left side should be less stressed, so there should be no particular physical problems. The variable of this Round will be the weather; in Indonesia it is in the middle of the rainy season, so thunderstorms and showers are really frequents. Last year on Saturday even Race 1 was postponed, due to a sudden thunderstorm. Furthermore, the humid heat will affect the performance of the bikes and the physical condition of the riders. Finally, the circuit has a new asphalt, redone after the Motogp event at the beginning of the year.
We can't wait to start the engines and kick off Round 11; below are the local times for the weekend;Friday 11-11-2022:
h09.00 – 09.45, WorldSSP, Free Practice 1
h10.00 – 10.45, WorldSBK, Free Practice 1
h12.00 – 12.45, WorldSSP, Free Practice 2
h13.00 – 13.45, WorldSBK, Free Practice 2
Saturday 12-11-2022:
h08.30 – 09.00, WorldSBK, Free Practice 3
h09.55 – 10.15, WorldSSP, Superpole
h10.40 – 10.55, WorldSBK, Superpole
h12.00 WorldSSP, Race 1
h13.30, WorldSBK, Race 1
Sunday 13-11-2022
h08.30 – 08.45, WorldSBK, Warm Up
h08.55 – 09.10, WorldSSP, Warm Up
h10.30, WorldSBK, Superpole Race 
h12.00, WorldSSP, Race 2
h13.30, WorldSBK, Race 2
Philipp Oettl (Rider):
"It will be a really hard weekend here; the weather conditions here are quite challenging. I am curious to discover how the bike will feel on this track, even if it will be the first time with the Superbike here. I am quite optimistic cause I like the track a lot, I want to be back in the places we were in Barcelona or Portimao, and continue that way of work. Physically I think here I will not have the same problem as in Argentina, but tomorrow after the FPs I will know something more about it! "