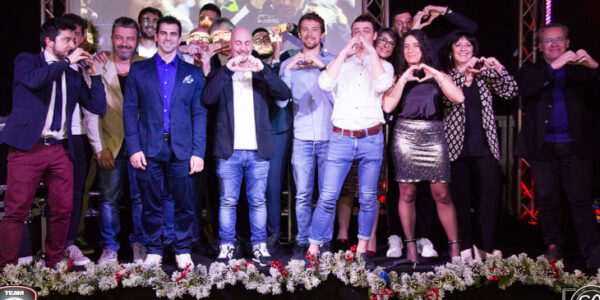 GO ELEVEN STARTS 2023 SEASON!
Last Saturday, the 2023 season kicked off in Cherasco, in the province of Cuneo, headquarters of the Go Eleven Team, together with the full team that will take part in the Superbike World Championship. A fully-booked arena, about 250 people took part to the dinner-presentation, including sponsors, collaborators, insiders, journalists and friends of the Piedmontese team. Guests of honor: Ruben Xaus, Superbike rider of the 2000s, a great friend of the Team Owner Gianni Ramello as well as one of the founders of Go Eleven, the Disco Club Paradiso from XFactor 2022, who entertained the guests after dinner with their spectacular performance, their radiant "noise", and the enormous availability shown with all the fans; and Philipp Oettl, Go Eleven's official rider, who is preparing to get in touch with the bike in the 2023 version next week, at the pre-season tests. A lot of passion, a lot of fun for everyone who attended the event, carried along by the presenter Andrea Caponnetto, who continued to animate the guests in a "vocalist" version after dinner, transforming the Gala into a real disco!
The bike, the Ducati Panigale V4-R with slightly renewed colors compared to the one seen in the last stage in Indonesia, still in the mixed 2022-2023 version already featured various updates that will be used in the next season; the most visible, the high version exhaust, as required by the regulation, branded Spark, a historic Mantuan company that has been collaborating with Go Eleven for several years now; but not only. Tank and seat were completely renewed, as were the aerodynamic appendages, the famous wings. In view of the first seasonal tests, some updates were still missing, which will be installed in the next few days.
The Go Eleven Team would like to thank all the guests, insiders, as well as the journalists for the contents created, the municipality of Cherasco for their availability and interest shown, Lauretana and Da Castello Vini as the official suppliers of the evening.
We just have to start the engines and find ourselves back on track with the first tests of the 2023 season; January 25-26 Jerez de la Frontera, January 31 – February 01 Portimao!
Philipp Oettl (Rider):
"The Team presentation was great! It was the first time I experienced the real Go Eleven Galà, last year it was much smaller due to Covid restrictions. I really enjoyed it, I had good times with the mechanics, with the sponsors, with all fans. I saw, almost, the new 2023 bike, I really like it. The design is not really different compared to last year, but there are many new parts! Now I am looking forward the first pre-season test. Winter break was short, I did some training with my personal bike, too, but I can't wait to ride my Superbike and work back together with all my team!"
Giovanni Ramello (Team Owner):
"What a party! After all these years of Covid, it was nice to come back to fill the whole Palaexpo of Cherasco with lots of friends, sponsors, insiders and obviously with our team. Every year we always try to find something new so as not to get bored those present, and this year we also had the Disco Club Paradiso, an XFactor band, who made us dance and have fun. Organizing this type of event is always complicated and requires a considerable effort, both in terms of time and work, but the result was incredible. I still want to thank all those who made the evening possible, the municipal administration and our suppliers. Now we can't wait to get on track in a few days in the first tests, so as to compare ourselves to our opponents and have an initial idea of the season, even if what matters most during tests is the work of developing the bike and the rider's feeling on the Ducati Panigale V4-R."
GALA' GO ELEVEN PICS (by Alberto Scarzello): CLICK HERE