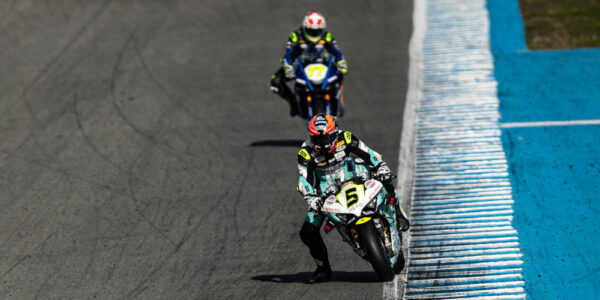 WINTER TEST; FIRST CONTACT WITH 2023 SEASON IN JEREZ!
Finally, WorldSBK is back on track! The main protagonists of the 2023 Superbike season hit the track for two days of winter tests at the Jerez track in Andalusia. Sun and good weather allowed many teams to show important technical innovations, despite the low temperatures.
Philipp Oettl and the Go Eleven Team restarted from the bike in 2022 configuration during the first day, so as to regain feeling and confidence after a couple of months of break, only to then switch to a hybrid bike, with various 2023 innovations during day 2. If Philipp found good sensations on the first day, on the second day, when he switched to the 2023 configuration, with a different seat and tank than those previously used, some difficulty arose in finding the right riding position. Several modifications were made to find a temporary solution, working on footrest, handlebars and heights, but the German rider has still not managed to get the feeling he had with the bike from the end of last year. For the Portimao tests, which will be held next week, further developments should arrive, and studying the best solution for the riding position, then we can concentrate on the set-up in view of the start of the season, also evaluating the new parts with which the 2023 Panigale is equipped. The Spark exhaust, in the external and high version, another news of the new season, has provided positive feedback especially at low revs, without losing performance at top speeds. Furthermore, during the two days of Jerez, Oettl never used the SCQ tyre, concentrating his work on the "racing" configuration; it's essential to first find the right feeling, then think about the time attack!
COMBINED RESULTS:
P 1   T. Razgatlioglu   1.38.269
P 2   J. Rea   + 0.083
P 3   A. Bautista   + 0.180
P 4   M. Rinaldi   + 0.377
P 5   A. Lowes   + 0.906
…
P 14   P. Oettl   + 1.754
Philipp Oettl (Rider):
"The first day was positive overall, we started from the 2022 bike, then I did a few laps in "almost" 2023 configuration. The second day was much more difficult, on the new bike the seat position is really different for me, and I am not comfortable at the moment. We spent the day adjusting the ride position, but still we didn't find a good balance. For Portimao, we will try to do something different, going similar to the 2022 bike. I didn't expect this kind of problem, but it's a new bike for us, I am quite confident we can find a good solution from the beginning of Portimao test, so we can start working on more important parts of the bike."
Denis Sacchetti (Team Manager):
"Yesterday we used the bike in the 2022 configuration, to restart from our reference point, while today we started work on the new bike, the 2023, and there is more work to be done than we expected. The day was used to understand the correct ergonomic, in order to feel comfortable on the bike, so we did many seat tests focusing exclusively on this, and never looking for the lap time. We believe that the potential of the Ducati package is very high, and in Portimao we will focus on giving Philipp the opportunity to make the most of it. This year the level is high, and every detail must be given the utmost importance."