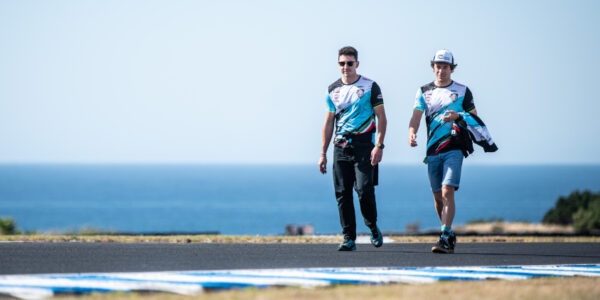 FIRST 2023 SEASON ROUND, AT PHILLIP ISLAND; WHAT ELSE?
Put together the most beautiful track in the world, an iconic place on the ocean shore, the excitement for the first round of the season, lots of new details shown by all the manufacturers, but still without direct comparison; tension, expectation and expectation come together to create the perfect climate for the debut of the 2023 Superbike World Championship!
Team Go Eleven and Philipp Oettl arrive at Phillip Island Thursday quite optimistic after an excellent pre-season; it began with some difficulty in adapting to the new V4-R 2023, session after session, thanks to the work of the technicians, the German rider managed to find a good feeling with the Panigale. In the two days of testing here at Phillip Island, he has always shown great consistency, improving his laptimes. For the weekend, the game will mainly be played on tyre management; as already evaluated in the long runs carried out in the tests, the last laps will be critical and losing / gaining positions will make the difference between a good result and a colorless race. Here, we'll see the complete 2023 version of the Ducati Go Eleven for the first time on the track, with all the technical innovations already evaluated during the winter. Furthermore, the level of the Championship has really risen, with many strong riders who will try to fight for the top positions; fighting up front will be a source of greater pride.
The premises are ready, all that remains is to take note of the weekend times (local time):
Friday 24-02-2023:
h 10.30-11.15, Supersport, Free Practice 1
h 11.30-12.15, Superbike, Free Practice 1
h 15.00-15.45, Supersport, Free Practice 2
h 16.00-16.45, Superbike, Free Practice 2
Saturday 25-02-2023:
h 10.50-11.20, Superbike, Free Practice 3
h 12.25-12.45, Supersport, Superpole,
h 13.10-13.25, Superbike, Superpole, 
h 14.30, Supersport, Race 1,
h 16.00, Superbike, Race 1, 
Sunday 26-02-2023:
h 10.30-10.45, Superbike, Warm up
h 10.55-11.10, Supersport, Warm up
h 13.00, Superbike, Superpole Race, 
h 14.30, Supersport, Race 2,
h 16.00, Superbike, Race 2,
Philipp Oettl (Rider):
"Tomorrow it's the season start, I am super motivated and excited! In FP 1 we have to check the new engine, riding the complete 2023 bike for the first time ; I expect a bit of improvement from the tests, which were already positive. I am curious about it, but I think we did a good job Monday and Tuesday here. Let's see the weather, here it can change fast. Anyway we found a good set-up, Friday I hope we can do some race simulation to understand which tyre is the best for the race. I am looking for a good start of the season!"