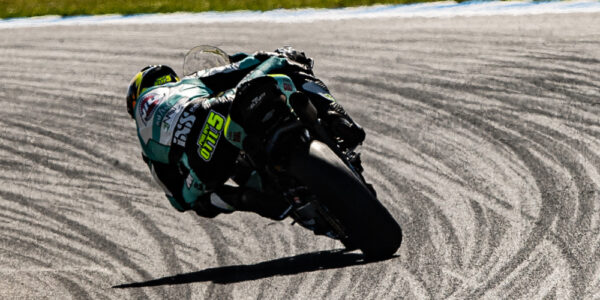 PHILLIP ISLAND; WHAT A DAY 1, PHILIPP!
17,700 km away from Portimao, where the last real winter test took place, around 20 days later, WorldSBK kicks off the 2023 season; two days of official testing on the most spectacular track in the world, located in one of the most remote (and fascinating) places in the whole globe. We are in the extreme southeast of Australia, on Phillip Island, Victoria. Precisely in 2023, this classic stage will once again take place at the opening, focusing all the spotlights on itself, allowing teams and riders to uncover the cards on the table. From today on, no hiding, it's time to work hard to get ready for the first race weekend.
During the Monday Philipp Oettl proved to be in great condition, returning truly motivated and convinced from the winter break. Throughout the day the weather was perfect, sunny and pleasantly warm, a completely different story compared to the freezing temperatures found last November. In FP 1 Philipp focused on regaining confidence with the corners of the Australian track, trying to pick up where he left off in the last round of last season. He has consistently found himself in the top ten, with all the tyre configurations brought here by Pirelli, immediately finding good pace. The team was thus able to focus its work on some innovative solutions in terms of set-up, both on the front forks and on the rear shock. With excellent results both in terms of feeling and timing, the German rider finished the first session in eighth place, just under the second to the leader.
FREE PRACTICE 1: 
P 1   A. Locatelli   1.31.008
P 2   A. Bautista   + 0.140
P 3   J. Rea  + 0.252
…
P 8  P. Oettl   + 0.942
Given the good feeling in the morning, in the afternoon, the Go Eleven technicians were able to concentrate more on some electronic parameters. Every outing Philipp has always found something positive, something that could help him in riding, entering in the first five places from the very first minutes. Several red flags caused by the presence of goose on the track (here in Phillip Island it often happens that we have to interrupt the sessions due to the appearance of local fauna) slightly changed the team's plans; for example, Philipp was unable to take advantage of the soft tyre precisely because of a forced interruption. The fact that after the first day the German rider is satisfied and convinced of his race pace is very positive, saying he is confident for the rest of the weekend, too. Today, the Team was also able to test the new 2023 fairing, which seems to give some small advantages in terms of top speed. A greater focus on the 2023 engine is expected for tomorrow, so as to be ready for the weekend, when sessions will get heavy, and the fight for points will get interesting!
FREE PRACTICE 2: 
P 1   T. Razgatlioglu   1.30.674
P 2   M. Rinaldi   + 0.099
P 3   A. Bautista  + 0.134
…
P 6  P. Oettl   + 0.921
Philipp Oettl (Rider):
"Today it was a really positive day, I felt comfortable from the beginning this morning, but there was still some work to do on the bike. During the day we found a really good way, especially considering our race pace. We tried some new 2023 specs, such as the fairings, it was interesting to understand how it works. I am curious for tomorrow, I think there is still something we can improve. Compared to Jerez and Portimao, I feel we made a step, a good step forward.Here the experience of last year helped me a lot, too. "
Denis Sacchetti (Team Manager):
"Finally we're in Australia, my favorite race! Very positive first day of testing, the weather here is perfect, warm but not too much, and today we really enjoyed working with Philipp. We were able to do some set up tests, very important chassis and electronics solutions, that helped us take a clear step forward. Philipp's feeling is good and harmony in the team is high, there is a lot of determination in the group. For tomorrow we have some other solutions to try, but we will try to start to approach a working method closer to what will be during the weekend. Starting the season like this gives us morale, but we have to stay focused and work well, without thinking too much about the result."