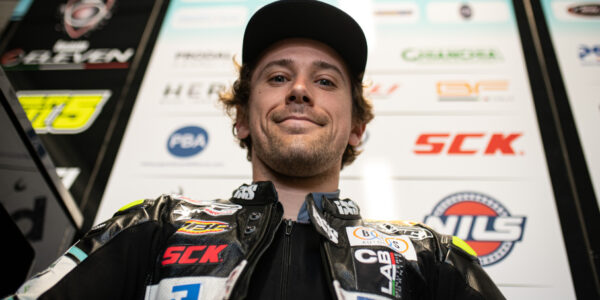 TOP 7 AT THE END OF TWO DAYS OF TESTING AT PHILLIP ISLAND!
Constance is the right word to explain the performance of Philipp Oettl and the Go Eleven Team in the two days of testing at the Phillip Island circuit. During Day 2, the Go Eleven rider confirmed his speed and concreteness in all sessions, completing the established program.
In the FP 1, the clouds and the fresh wind kept the asphalt temperatures cold, making the track very performing. Philipp set an excellent time under 31, improving his best lap ever here on the island, a tenth better than last year's Superpole. In the morning he took fourth position for most of the session, only to drop to sixth towards the end. The only "regret" is not having improved with the softer tyre, which will be used in qualifying. However, the feeling in the race configuration is really good, so much so that he manages to lower his references easily, even in different set-up conditions.
FREE PRACTICE 1: 
P 1   A. Bautista  1.30.272
P 2   A. Locatelli   + 0.072
P 3   M. Rinaldi  + 0.229
…
P 6  P. Oettl   + 0.566
In the afternoon, the program included a complete race simulation, in a similar schedule to that of the two Main Races of the weekend. Philipp complied fully with it, completing almost 20 consecutive fast laps, constantly pushing. Here, as often happens, tyre management in the last 5-6 laps can really make the difference, as Philipp Island is a particularly incisive track especially on the rear. At the end of the session, the Italian team tried a different front, which however did not provide Oettl with an excellent feeling, despite the fact that he managed to improve the reference. In the afternoon the track was slightly slower due to the high temperature of the asphalt and perhaps with the extra grip provided by a soft tyre it could have made a difference, but the important thing was fixing all the details for the Race.
FREE PRACTICE 2: 
P 1   A. Bautista   1.30.404
P 2   D. Aegerter   + 0.335
P 3   M. Rinaldi + 0.592
…
P 7  P. Oettl   + 0.859
A really positive two days, the one that has just ended in Phillip Island; The number 5 has always shown to be calm and fast, constantly remaining in the top places in all set-up and tyre configurations. Certainly from Friday the story will be different, we will still need to improve a few tenths, but the start was really convincing. Now, two days of well-deserved rest for riders and teams, then it will be time to inaugurate the 2023 WorldSBK World Championship!
Philipp Oettl (Rider):
"Today it was another really good day of testing! In the morning we focused more on the lap time, while in the afternoon we did a complete race simulation, keep working on the turning of the bike, on tyres comparison and electronic, mainly in the anti-spin area. The only negative part of today is that we couldn't try the new engine, it was programmed this afternoon, but we couldn't do it due to a small technical problem.  Everything else was really good, this morning I couldn't take the maximum from the softer tyre, maybe we still have to work a bit on it, but generally we are in the right direction."
Denis Sacchetti (Team Manager):
"Today was another positive day, we managed to complete the pre-established work program and we had the confirmation we were looking for on some electronics configurations and set-up. In the morning the track was fast and we tested the tyre for Superpole Race, while we did the race simulation in the afternoon, and the rider had positive feedback, the feeling is good and understanding the management for the final laps of the race was very important. So I would say that we are ready for the start of the World Championship, let's hope we have fun!"