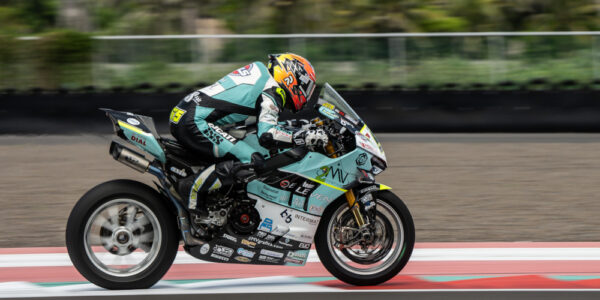 FAST IN THE MORNING, STRUGGLING IN THE AFTERNOON; A TWO FACES FRIDAY FOR GO ELEVEN!
Day 1 in Mandalika turned out to be more complicated than expected for Go Eleven and the rider Philipp Oettl; coming from the excellent weekend in Australia, they expected to start again from a placement within the Top Ten. In the morning, everything worked fine, then in the afternoon the difficulties increased.
FP 1 saw many riders waiting in the pits for a long time; the track had no tyre and the times remained quite high throughout the session, if compared to the best laptimes on the track. However, Philipp was able to find an excellent feeling, riding his Ducati V4-R fluidly. After the first pit stop, the front tyre was particularly damaged, so much so as it was impossible to improve the the best lap. A good session, in any case, to pick up the rhythm and get back to having confidence with the Mandalika International Circuit after last year's crash.
Free Practice 1:
P 1   M. Rinaldi   1.34.613
P 2   T. Razgatlioglu   + 0.056
P 3   A. Bautista    + 0.170
…
P 9   P. Oettl   + 0.958
The afternoon session was held in much hotter asphalt conditions, over 53°C, with decidedly more tyre on the line, so much so that the references improved by almost two seconds. Philipp and the Go Eleven Team tried to set a race pace, so as to have an idea of what could happen in tomorrow's race, but due to some traffic in the first laps, the lap time turned out to be less fast than the expected. Towards the end of the session, with the new tyre, he was able to lower the personal best lap, but the German rider was still unable to ride as he would like. The main problem is the loss of line, especially in acceleration, loosing a lot in the fourth sector, where most of the gap is accumulated.
Free Practice 2:
P 1  M. Rinaldi   1.32.468
P 2   A. Bautista   + 0.029
P 3   T. Razgatlioglu   + 0.157
…
P 16   P. Oettl   + 1.892
For tomorrow, the technicians are already evaluating some solutions in terms of bike set-up and balance, trying to get close to Philipp's requests. There's no need to be alarmed yet, there is time to improve and tyre management, especially on the front, will play a fundamental role in the race, here in Mandalika, too. The race pace shown today by the others is not that great and the Top Ten is not far off. Tomorrow is another day and it will be necessary to find the right way to improve especially the final part of the track.
Saturday Schedule (local time / english time):
h 08.30 – 09.00 / h 00.30 – 01.00 Free Practice 3
h 10.40 – 10.55 / h 02.40 – 02.55 Superpole
h 13.30 / h 05.30 Race 1
Philipp Oettl (Rider):
"We started well in the morning, we were in Top Ten at the end of the FP 1, but during the second session track conditions changed a lot and we had to adapt to it. We struggled a bit, so we have a lot of work to do. We are a bit further behind than I expected to be here, but it's not so easy to have a good confidence in the line after last year's crash, even if in the line the grip is really good. I am quite confident that tomorrow we can do a good step forward analyzing datas collected today. We will find our way, this track is completely different compared to Australia, tyres here are different, too, so let's see what we can do tomorrow. As the track will improve day by day I expect that the feeling with the front, even after some laps, will improve, too!"
Friday pics: CLICK HERE