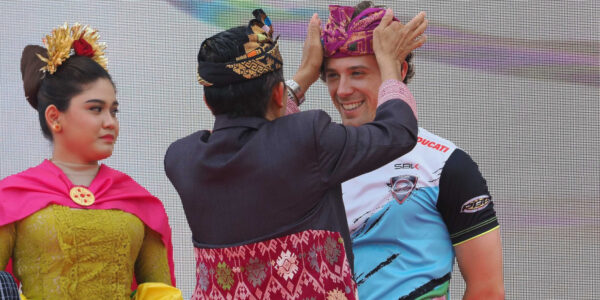 WORLDSBK NON STOP; FROM PHILLIP ISLAND TO LOMBOK, INDONESIA!
The start of the 2023 WorldSBK season does not include breaks; after the exciting battles of the Australian Round, in which Go Eleven performed well bringing home two Top 6, the whole circus is back on track. Mandalika International circuit, island of Lombok, Indonesia will be the place of the second WorldSBK round. An idyllic place, halfway between surf, ocean and coral reef on one side, rainforest and characteristic towns populated by welcoming and excited inhabitants on the other, the newly built circuit is always the scene of spectacular races full of twists. March is in the middle of the rainy season, so the weather could be a fundamental variable of the weekend; sudden storms followed by a shy sun appearing through the clouds is the constancy of these days.
Go Eleven and Philipp Oettl don't have very good memories of the Round held here in 2022; although the German rider felt comfortable riding the Ducati in the Friday sessions, in Race 1 he was involved in a bad accident in an attempt to recover after an early mistake, ending the weekend in hospital. From tomorrow it will be essential to reset everything and immediately rediscover the good feeling left in Australia, where the Ducati Go Eleven has been competitive and fast all week, from testing to Sunday. Philipp's riding style is particularly suited to the characteristics of the Mandalika track, which perhaps enhances the main characteristics of the V4-R less than Phillip Island, and this will probably create even more competition within the Top Ten. For this Round Pirelli will make the "classic" compounds available, returning to what was the season finale of last year; SC0 and SCX for races, SCQ for qualifying and possibly Superpole Race.
Now all that remains is to take note of the Indonesian weekend timetables (local time):
Friday 03-03-2023:
h 09.00-09.45, Supersport, Free Practice 1
h 10.00-10.45, Superbike, Free Practice 1
h 12.00-12.45, Supersport, Free Practice 2
h 13.00-13.45, Superbike, Free Practice 2
Saturday 04-03-2023:
h 08.30-09.00, Superbike, Free Practice 3
h 09.55-10.15, Supersport, Superpole
h 10.40-10.55, Superbike, Superpole,
h 12.00, Supersport, Race 1
h 13.30, Superbike, Race 1
Sunday 05-03-2023:
h 08.30-08.45, Superbike, Warm up
h 08.55-09.10, Supersport, Warm up
h 10.30, Superbike, Superpole Race
h 12.00, Supersport, Gara 2
h 13.30, Superbike, Gara 2
Philipp Oettl (Rider):
"We are in Indonesia, Lombok, that's a really nice place! In the past days I could relax a bit  and now I am ready to face the Round. It's a completely different layout compared to Phillip Island, but I like it. The weather will be quite unstable, it's difficult to predict if it will be raining or not, as here it can change fast. I am optimistic because I felt good last year on the bike before the crash, I hope we can find a good set-up from the beginning. I am really looking forward to have another good weekend and come back home with some more points!"