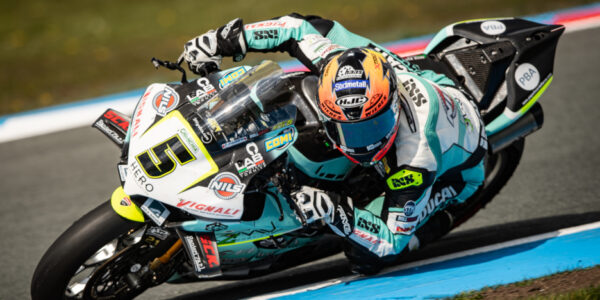 CLOSE GAPS, FIFTEEN RIDERS IN A SECOND AFTER ASSEN'S FRIDAY!
Decidedly optimal weather on Friday in Assen, temperatures milder than yesterday and rain that spared WorldSBK, at least for today. Philipp, returning from the 24 Hours of Le Mans, took a couple of laps to regain confidence with the Ducati V4-R Go Eleven, then ending the day in fifteenth position, but less than a second from the leader, two tenths and half from the Top 6. Incredibly close gaps, a Saturday to be experienced on Dutch soil.
In FP 1 Oettl completed an entire race distance with the same tyres, proving to be constant and fast, losing slightly in the central sectors of the track, in the second one and third one. In the morning the work concentrated more on the electronics, trying to adapt the Ducati power to the particular layout of the TT-Circuit.
Free Practice 1:
P 1   A. Bautista    1.34.592
P 2   J. Rea   + 0.182
P 3   R. Gardner   + 0.584
…
P 13   P. Oettl    + 1.188
In the afternoon, the Go Eleven strategy was to enter the track with the SCX, testing its use for the length of the race. Good feeling, a light drop that doesn't cause too much discomfort for the German rider, which bodes well for the race. Towards the end of the session, a real time attack was missed, the new tyre didn't give the hoped-for benefit, but in any case Philipp kept the gap below one second. Here in Assen the WorldSBK riders are really close, opening up different scenarios for tomorrow's race.
Free Practice 2:
P 1   A. Bautista    1.34.316
P 2   A. Lowes   + 0.231
P 3   J. Rea    + 0.257
…
P 15   P. Oettl   + 0.963
For tomorrow the forecasts seem rather unstable, so it will be necessary to work well in the evening to be ready in all conditions. Every small step can mean different positions recovered, let's see what Saturday will say from the Cathedral of Speed!
Saturday Schedule:
FP 3: 09.00 – 09.30
Superpole: 11.10 – 11.25
Race 1: 14.00
Philipp Oettl (Rider):
"I have a mixed feeling from today! I think we have a solid pace , so I am positive for the Race, but we missed a strong fast lap in the end. We almost decided which tyre to use for the Race, so from the FP 3 we can focus on our set-up. All riders are really really close together, just a couple of tenths can create a big step in term of position.  I have a good feeling for tomorrow!"
FRIDAY PICS: CLICK HERE