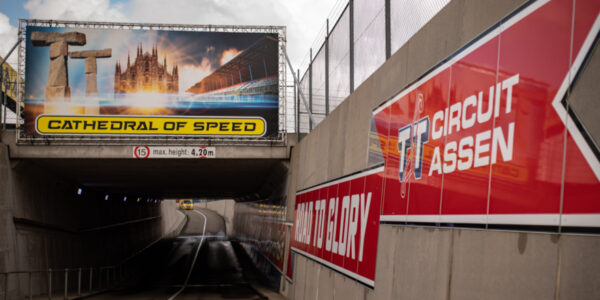 FIRST WORLDSBK EUROPEAN ROUND; ASSEN, THE CATHEDRAL OF SPEED!
What better place for the European debut of WorldSBK 2023?! TT Circuit Assen, the cathedral of speed, one of the most iconic and spectacular tracks of the whole calendar. Crossing the underpass that allows access to the circuit creates a unique emotion, bringing to mind famous duels, unforgettable races. After more than a month's stop, the riders find their "beasts" on the track for the third round of the season.
Philipp Oettl arrives excited and motivated after a positive start to the season in Australia, growing in Indonesia, before a contact that put him out of the race, and above all ready after participating in the famous 24 Hours of Le Mans, riding the Ducati of ERC Endurance team, fifth at the finish line. In recent days he has had the right amount of time to rest and regain his energy before landing on Dutch soil. The track is one of the favourites of the German number 5 rider, where last year he was able to secure a seventh place in the second race of his WorldSBK career. The weather this weekend could once again complicate the teams' plans, in Assen the rain can come in a few minutes, and combined with the low temperatures that currently "freeze" the workers, it could compose a mix of the unexpected and add a few notches to the level of sudden.
Below you will find all the times to follow Round 03, finally with more manageable times than at the start of the Championship:
Friday 21-04-2023:
9.45-10.15, Supersport 300, Free Practice 1
10.30-11.15, Superbike, Free Practice 1, 
11.25-12.10, Supersport, Free Practice 1
14.15-14.45, Supersport 300, Free Practice 2
15.00-15.45, Superbike, Free Practice 2, diretta
16.00-16.45, Supersport, Free Practice 2
Saturday 22-04-2023:
9.00-9.30, Superbike, Free Practice 3
9.45-10.05, Supersport 300, Superpole,
10.25-10.45, Supersport, Superpole,
11.10-11.25, Superbike, Superpole, 
12.40, Supersport 300, Race 1,
14.00, Superbike, Race 1, 
15.15, Supersport, Race 1,
Sunday 23-04-2023:
9.00-9.15, Superbike, Warm up
9.25-9.40, Supersport, Warm up
9.50-10.05, Supersport 300, Warm up
11.00, Superbike, Superpole Race, 
12.30, Supersport, Race 2,
14.00, Superbike, Race 2, 
15.15, Supersport 300, Race 2,
Philipp Oettl (Rider):
"I am ready for the WorldSBK in Assen! I had a good "training" last weekend in Le Mans, it was really really hard, but we have been in fight for the podium all the race long, then finishing in P 5 was a great achievement after all the efforts! Last year we were strong here, we took our first Top Ten, but of course very year is different. We will take it step by step, I have not been on the Go Eleven bike since Indonesia, so  i am happy to be back here with the team, I am curious about the weekend!"