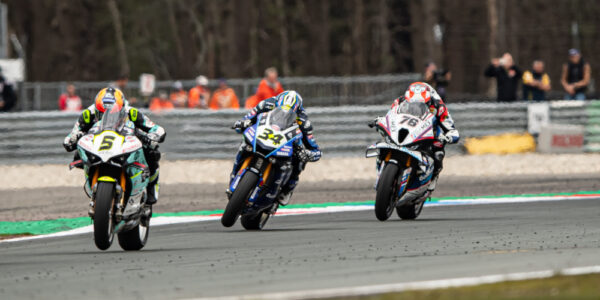 TOUGH SATURDAY IN ASSEN, TWO POINTS IN THE BOOKS AFTER RACE 1!
A complicated Saturday for Go Eleven at the TT-Circuit. Small gaps, riders closed in a few seconds, but certainly the position for Race 1 is not what was expected, given the excellent performance in 2022 on the same track.
The day began with a wet track, a consequence of the rain that fell during the night. However, Philipp took to the track to fix the set-up and find the right feeling, given the good chances of a wet race. Certainly with the water there is still a lot of work to do, but in any case it was essential to complete a few laps and be ready in all conditions.
Free Practice 3:
P 1   R. Gardner    1.44.648
P 2   A. Bautista   + 0.711
P 3   T. Razgatlioglu  + 0.999
…
P 16   P. Oettl    + 3.314
The Superpole saw all the riders enclosed in very few tenths. Oettl, on his fast lap, made a small mistake in the last sector, which probably cost him a row. It's difficult to judge his performance negatively in terms of time, but certainly starting from fourteenth place is not what he aspired to before the weekend.
Superpole:
P 1   A. Bautista    1.33.542
P 2   J. Rea   + 0.027
P 3   T. Razgatlioglu    + 0.119
…
P 14   P. Oettl   + 0.849
In Race 1 Philipp had a good start to defend his position, but on the first lap he went wide in a contact with Baz, losing some time and four positions. In the first eight laps, the pace kept was not good, finding himself in the traffic of other rivals, without being able to pass them easily. From mid-race he manages to get the position on Ray, Baldassari and Baz, and, pulled by Gerloff, together, they close on the duo made by Van Der Mark and Rinaldi. The Go Eleven rider manages to attack the Italian immediately, but fails to close definitively on the BMW duo. Two points brought home, a disappointing race for the result, but aware that with a small step you can take a big leap forward. From mid-race onwards the pace was good and in line for the Top Ten, but the time lost at the start of the race was decisive
Race 1:
P 1   A. Bautista   33'17.872
P 2   J. Rea   + 3.148
P 3   T. Razgatlioglu   + 3.891
…
P 14   P. Oettl   + 25.088
Not being far off in terms of pace, for tomorrow it will be essential to take another small step, especially to improve out of the corners, hoping for a good Superpole Race. Certainly the starting grid won't help, but you have to believe in it, because there are still many points up for grabs, to be conquered!
Sunday Schedule:
Warm Up: 09.00 – 09.15
Superpole Race: 11.00
Race 2: 14.00
Philipp Oettl (Rider):
"The Race wasn't in the group we wanted to fight with, fourteenth place isn't our ambition! In the first lap i had a contact with Baz, which made me loosing 4 positions. Then I had a good pace, I tried to do my best, following Gerloff and closing onto Rinaldi. I took points, and I felt good on the bike, but the results didn't pay our efforts. We work and try to improve for tomorrow, cause I think we can have a better Race!"
Denis Sacchetti (Team Manager): 
"We're having a difficult week, we can't be as fast as we'd hoped and today in Race 1 we really didn't need a contact to complicate things even more. We're not far off in terms of chronometric performance, but in this championship we're all very close, it seems like a Moto3 where 3 tenths can be a lot of positions, so it's essential to be and do everything 110% to get to the result. Let's keep working, tomorrow we'll try to take a step forward!"
SATURDAY PICS: CLICK HERE