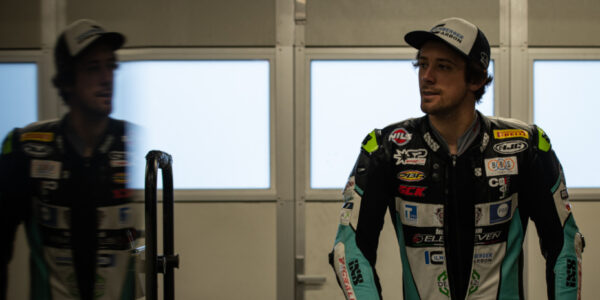 POINTS IN BARCELONA'S SATURDAY, SUFFERING THE REAR DROP!
The difficulties have not yet passed, but at the end of Saturday Go Eleven conquers four points that move the World Championship standings and give confidence for tomorrow's races. The gap is wide compared to the Top Ten, but today there was a step forward in terms of feeling and riding.
The day started in the wrong way, in FP 3 Philipp didn't feel the bike in his hands, despite the fact that the gap with the race tyre was decidedly smaller than on Friday. At the end, when everyone used the Q, the German rider was unable to make the most of it, only adjusting his Best Lap. An attempt to try in any case to prepare for Superpole.
Free Practice 3:
P 1   A. Bautista   1.40.573
P 2   A. Locatelli    + 0.967
P 3   M. Rinaldi    + 1.015
…
P 15   P. Oettl   + 2.276
Superpole was a very hectic session, interrupted by a red flag following the crash of Lowes in turn 14. In the first Run he managed to lower the reference by about a second compared to the morning, dropping below 42, then with the second tyre it was not possible to improve, due to the forced interruption of the session. Here in Barcelona it is difficult to improve with the slightly used tyre. In any case, fifteenth position on the grid, and a race to be faced as a comeback.
Superpole:
P 1    A. Bautista    1.40.264
P 2    D. Aegerter   + 0.473
P 3    J. Rea    + 0.497
…
P 15   P. Oettl   + 1.701
In Race 1 we finally saw some light, after a tough weekend. First start interrupted after the accident involving Granado, second start with a new rear tyre, in which Philipp was able to better fight in the traffic on the first lap, only to then get into a close battle with Baz. Several laps behind the Frenchman, who was then overtaken at the middle of the race. In the last seven laps, the decline of the rear B800 forced the Go Eleven rider to defend his position close to the Top Ten, bringing home important points.
Race 1:
P 1   A. Bautista   29'06.615
P 2   T. Razgatlioglu   + 8.864
P 3    J. Rea   + 8.927
…
P 12   P. Oettl   + 31.286
For tomorrow, we need to further reduce the gap with the Top Ten, working mainly on the end of the race, where we suffered today. Furthermore, on Sunday the weather could play a decisive and unexpected variable; a bit of Rain can come close to Race 2 starting time.
Philipp Oettl (Rider):
" After FP 3, where I had a really bad feeling, P 12 in the race isn't totally bad, we worked hard all the weekend, after the Superpole I was a bit more optimistic, I didn't expect to ride in 41. We still have a lot of work to do to close a bit the gap, we need to focus on where we can improve. I have high motivation, together with the Team we can only fight to move our standing. Overall my feeling improved on the bike, now i can ride more comfortable! Before the red flag in the race I had an even better feeling, but this leave me positive for tomorrow."
Denis Sacchetti (Team Manager):
"Here in Barcelona we found a slippery track with excessive tyre drop, this forced us to change the work program for the whole weekend. Yesterday we were in a lot of trouble but this morning, after studying the data, we managed to take a good step forward and in Race 1 we got very close to the Top 10. Tomorrow we will try to take another step forward, the path taken seems to be the right one. The main problem remains grip and tyre drop. Let's see what happens tomorrow, where the weather could change the values on track."
SATURDAY PICS: CLICK HERE