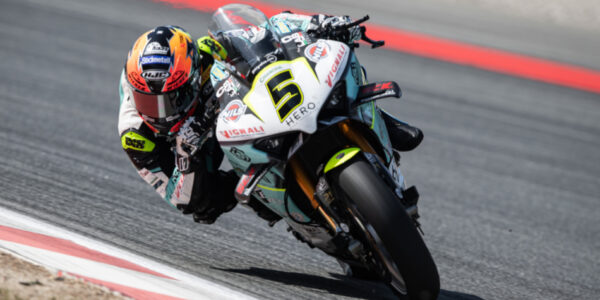 TOUGH START FOR GO ELEVEN, UNEXPECTED GAP AT THE END OF DAY 1- MONTMELO'!
Really tough Friday on the Barcelona track! Unexpected difficulties since the morning, a lack of grip that creates more than a few headaches for the Ducati Go Eleven, without finding, so far, an important solution. Certainly, on the Catalunya circuit, we expected a different day, both in terms of gap and feeling. But it's only Friday, and there's still plenty of time to improve and rebuild a good performance.
FP1 took place in almost perfect conditions, 20 degrees in the air, warm sun that welcomed all the WorldSBK protagonists. Philipp entered on the rear SC0, trying to gain confidence and find a good set-up to work on over the weekend. Right from the start he complained about a big lack of grip, which generated excessive rear sliding; Montmelò is a very particular track from this point of view, every year it throws the riders into a crisis both in terms of race management and set-up. Already in the morning it was possible to understand that the big difference will be made at the end of the race, by managing the drop of the tyres well. At the end of the morning session, a new rear tyre solution was tested, which did not provide a huge difference in terms of performance.
Free Practice 1:
P 1   M. Rinaldi   1.41.633
P 2   J. Rea   + 0.019
P 3    T. Razgatlioglu   + 0.088
…
P 15   P. Oettl   + 1.725
For FP 2, the Team tried to make some changes to the balance of the bike, working on the rear shock, swingarm and heights. In the first stint he completed the tyres used in FP 1, then in the final stages the time attack meant an improvement in performance, but without being able to make an impact. Laptime is still too high compared to our reference group, it will be essential to work well in the evening to find some new solution to be evaluated tomorrow. Even more with the high temperatures, the second half of the race will prove be critical. Still to understand the best compound over the long distance. To move up the rankings, the only way is to work, to analyze well the data we have collected, remaining focused and determined.
Free Practice 2:
P 1    A. Bautista    1.41.486
P 2    M. Rinaldi   + 0.350
P 3    J. Rea    + 0.529
…
P 16   P. Oettl   + 1.948
Philipp Oettl (Rider):
"Today it's a difficult day for us, I think the others have a small advantage due to the recent tests here, at Montmelò, but we have room for improvement. We keep working, to achieve a good solution for tomorrow, the drop of the tyre will be really important tomorrow and on Sunday. I think we made a small step forward in the FP 2, but now we have to do another one in the right direction!"
FRIDAY PICS: CLICK HERE