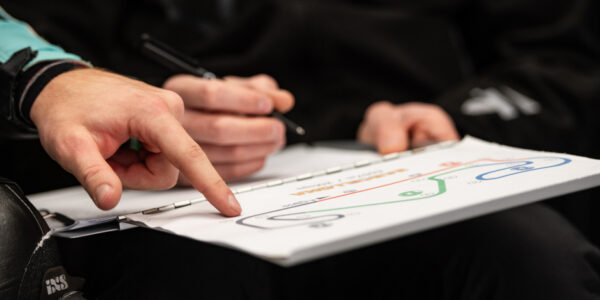 MONTMELO', ROUND 04, WORLDSBK SEASON BECOMES "CALIENTE"!
Barcelona, Circuit de Catalunya, WorldSBK is preparing to tackle one of the most beautiful and spectacular tracks of the whole calendar. Slides, smoke from the rear, incredible slow-mo and many overtaking hotspots; the layout, here, always guarantees many emotions and plot-twists.
Philipp Oettl, together with Team Go Eleven, come to Round 04 looking for redemption; both in Indonesia and in Assen, some difficulties affected the performance of the Italian team. Speed was not lacking, but with the very small gaps, qualifying and the first part of the race make the difference to get a good result. On the Catalan circuit, the German rider, in 2022, achieved one of the best weekends of the entire season, with a sixth and a seventh place obtained in the Sunday races. The Go Eleven Team did not carry out the recent Montmelò tests, but on this track a lot of data has been collected over the years, and tomorrow there will be an opportunity to find the right set-up for the weekend. Pirelli has brought a new front compound, the SC0, softer than the previous choices available, which will be evaluated for the race distance. The sensations are good, but this year with a few tenths you can gain or lose many positions!
Here are the times to follow the WorldSBK Round 04:
Friday 05-05-2023:
9.45-10.15, Supersport 300, Free Practice 1
10.30-11.15, Superbike, Free Practice 1, 
11.25-12.10, Supersport, Free Practice 1
14.15-14.45, Supersport 300, Free Practice 2
15.00-15.45, Superbike, Free Practice 2, diretta
16.00-16.45, Supersport, Free Practice 2
Saturday 06-05-2023:
9.00-9.30, Superbike, Free Practice 3
9.45-10.05, Supersport 300, Superpole,
10.25-10.45, Supersport, Superpole,
11.10-11.25, Superbike, Superpole, 
12.40, Supersport 300, Race 1,
14.00, Superbike, Race 1, 
15.15, Supersport, Race 1,
Sunday 07-05-2023:
9.00-9.15, Superbike, Warm up
9.25-9.40, Supersport, Warm up
9.50-10.05, Supersport 300, Warm up
11.00, Superbike, Superpole Race, 
12.30, Supersport, Race 2,
14.00, Superbike, Race 2, 
15.15, Supersport 300, Race 2,
Philipp Oettl (Rider):
"Last year we had a really good weekend here in Barcelona, we have been fast all the three days here. I am quite optimistic, we can do a similar results, but first we need to find a good solution for the Superpole, to have a good starting position, cause in Assen it was our main problem. I really like this track, it's very exciting, and here it's also a bit easier to overtake. From tomorrow on, we will try to prepare a good bike and a good set-up!"