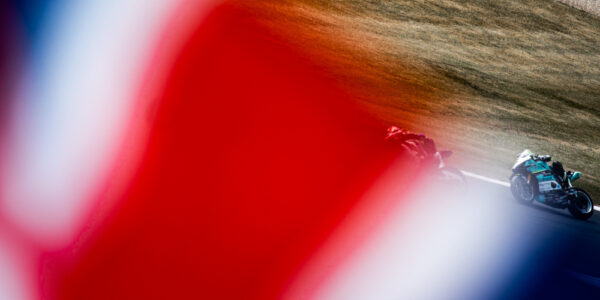 BRITISH STYLE, WORLDSBK LANDS AT DONINGTON PARK FOR THE TURNING POINT OF THE 2023 SEASON!
The history, the passion, the ups and downs, the iconic tracks… WorldSBK stops at Donington Park, a spectacular and exciting circuit where you can breathe the duels of the past that brought fans closer to Superbikes. One of those symbolic circuits, a fixed presence in the calendar.
For 2023 the track has been completely resurfaced, altering what will be the responses of the tyres in terms of grip; only after tomorrow's first session the teams will have a clearer idea of the work to be done. Philipp Oettl and the Go Eleven Team lands on English soil after a growing home Round, in Misano, in which performances have definitely improved compared to the Assen and Barcelona rounds; the German rider seems to have found the necessary feeling, returning to the fight for the Top Ten. In Donington, the goal is to have a constant weekend, confirming the good sensations found again, starting from qualifying which too often negatively influenced the results of the races. On the particular layout of the track located in Leicestershire, Philipp had good races last year, always fighting within the top ten positions, despite being here for the first time in his career. Given the new surface, Friday will be dedicated to understanding the performance and drop of the tyres, collecting data from a race perspective; The weather is further variable, for tomorrow the forecasts seem unstable in the afternoon, which could complicate the teams' plans. Premises made, now all that remains is to take note of the times, waiting for the track response!
Friday 30-06-2023:
10.30-11.15, Superbike, Free Practice 1, 
11.25-12.10, Supersport, Free Practice 1
15.00-15.45, Superbike, Free Practice 2, 
16.00-16.45, Supersport, Free Practice 2
Saturday 01-07-2023:
9.00-9.30, Superbike, Free Practice 3
10.25-10.45, Supersport, Superpole,
11.10-11.25, Superbike, Superpole, 
14.00, Superbike, Race 1, 
15.15, Supersport, Race 1,
Sunday 02-07-2023:
10.00-10.15, Superbike, Warm up
10.25-10.40, Supersport, Warm up
13.00, Superbike, Superpole Race, 
14.30, Supersport, Race 2,
16.00, Superbike, Race 2, 
Philipp Oettl (Rider):
"I can be optimistic for Donington Round, I want to continue how we ended in Misano, cause I had a good feeling with the bike there. Here we have a new asphalt, I think it can be good for us, but I am curios to discover how the track changed compared to last year. WorldSBK is back after three weeks, i did some training with the standard bike, so I am completely ready and motivated for the weekend!"