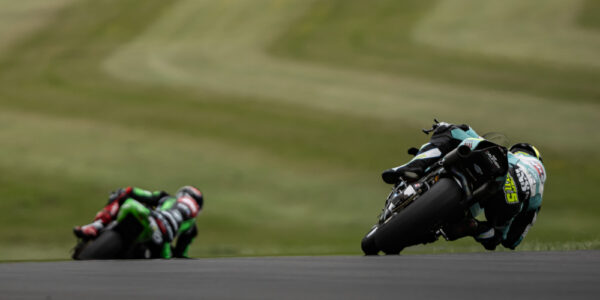 PHILIPP OETTL THIRD AT THE END OF DONINGTON PARK DAY 1!
Positive day for the Go Eleven Team; Friday on the spectacular English track ended with the German rider number 5 in third place in the combined standings. Fast and consistent in the morning, Oettl was able to stop the clock less than a tenth from the top, riding about 1 and a half seconds faster than last year's FP 1, despite the classic English drizzle leaving a few drops on the visors of the protagonists on the track .
FP 1 was a session continuously influenced by the weather, but the track always remained dry enough to allow the riders to get good references. Philipp took to the track motivated and determined, immediately entering the Top 5, and improving with each outing into the track. Until mid-session the most critical part of the track seemed to be the two low-speed hairpins, but in the last stint he managed to close the gap and set an excellent time to move into third place. Same tyre for the whole session, but unfortunately it wasn't possible to try a real race pace, due to some showers during the 45 minutes.
Free Practice 1:
P 1   J. Rea   1.27.627
P 2   T. Razgatlioglu   + 0.052
P 3   P. Oettl    + 0.130
In FP 2 the riders immediately took to the track, hoping that the weather would assist them for a few timed laps; unfortunately the rain appeared immediately, making the track damp, but not wet enough to test the Rain tyres. A practically wasted session that will make tomorrow's race interesting; no team was able to test a considerable number of laps, generating a big question regarding the tyres and drop, also considering the new asphalt.
Free Practice 2:  No time set
Tomorrow FP 3 will be very important, thirty minutes in which we will try to understand the drop of the tyres and the response of a hotter asphalt in case of sun. Let's enjoy this P3, aware that tomorrow we will need to confirm and try to get a good qualification!
Philipp Oettl (Rider):
"Today we can speak only about the First Practice, while in the second one we couldn't complete a lap due to the typical english weather! In the afternoon we saved a sticker to have one more tyre for the weekend, where the weather seems to be good. This morning we did a good job, my feelings were good on the bike, I think we are on the right way since Misano race. Tomorrow morning FP 3 will be crucial for the Race, we keep focused!"
FRIDAY PICS: CLICK HERE