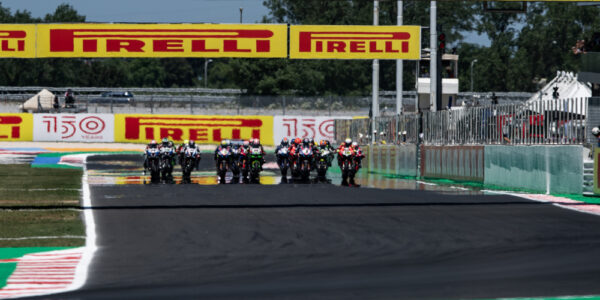 HOME RACE, #EMILIAROMAGNAWORLDSBK IS ABOUT TO START!
Finally…Misano! To be back to the home track, in Italy, so close to the Adriatic Riviera, always generates emotion and the desire to demonstrate. This year, it's the fifth round of WorldSBK 2023, with all the riders coming to the Romagna track following a two-day test, held at the beginning of May, conditioned by the rain. The guests of the Team, the spectators, which promises to be numerous and hot, will contribute to create a unique atmosphere during the weekend.
Philipp Oettl, here at Misano, arrives ready and with a great desire to redeem the performances of the last few races; he likes the track, in the tests he seems to have found a slightly better feeling, but it will only be the track, from tomorrow on, to demonstrate whether a good job has been done by the team or whether improvement is still needed. Last year, the German rider arrived at the Misano World Circuit with a broken collarbone, managing to finish race 2 close to the Top Ten, exhausted by fatigue and pain; this year, the physical condition is optimal and there are all the credentials to bring home a good result.
In less than 24 hours we will have the first answers from Round 05, but first here are the times to watch WorldSBK at Misano!
Friday 02-06-2023:
9.45-10.15, Supersport 300, Free Practice 1
10.30-11.15, Superbike, Free Practice 1, 
11.25-12.10, Supersport, Free Practice 1
14.15-14.45, Supersport 300, Free Practice 2
15.00-15.45, Superbike, Free Practice 2, 
16.00-16.45, Supersport, Free Practice 2
Saturday 03-06-2023:
9.00-9.30, Superbike, Free Practice 3
9.45-10.05, Supersport 300, Superpole,
10.25-10.45, Supersport, Superpole,
11.10-11.25, Superbike, Superpole, 
12.40, Supersport 300, Race 1,
14.00, Superbike, Race 1, 
15.15, Supersport, Race 1,
Sunday 04-06-2023:
9.00-9.15, Superbike, Warm up
9.25-9.40, Supersport, Warm up
9.50-10.05, Supersport 300, Warm up
11.00, Superbike, Superpole Race, 
12.30, Supersport, Race 2,
14.00, Superbike, Race 2, 
15.15, Supersport 300, Race 2,
Philipp Oettl (Rider):
"I am looking forward to the weekend, I am quite curios on how we improved the bike during the tests. I really like Misano, the atmosphere and the track are unique! we had a two weeks break, now I can't wait to be back on my Ducati. Here is team's home race, we have many sponsors and friends coming to the track, it pushes me even more! Let's see where we will be at the end of tomorrow and then we can have a better idea of the weekend!"