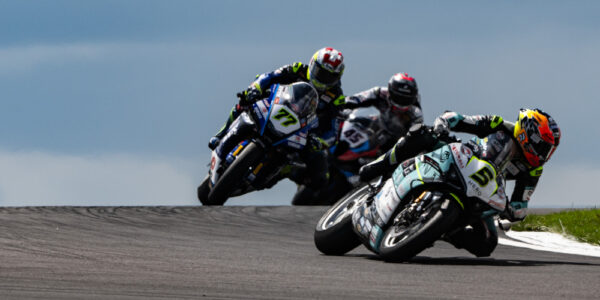 TECHNICAL PROBLEM AT 4 CORNERS TO GO, THAT HURTS!
Hard to accept what happened today in Donington Park; the Ducati Go Eleven was forced to stop due to a technical problem related to the engine, with four corners to go. Four turns, about a kilometer and a half. A good race by the way, in which Philipp always stayed within three seconds to the Top 5.
As was said yesterday, FP 3 would have been fundamental for the weekend; it's a pity that the rain that fell during the night left a wet asphalt that made the morning session almost useless. Many laps to dry the line, but none with a good race pace. However, Philipp confirmed the good sensations experienced yesterday, waiting for qualifying.
Free Practice 3:
P 1   A. Bautista   1.27.636
P 2   T. Razgatlioglu   + 0.144
P 3   J. Rea    + 0.617
…
P 10   P. Oettl   + 1.889
Superpole here in Donington was really tight! Philipp collected six tenths of a gap, finding himself eleventh on the grid. Not bad compared to the qualifying sessions of the last few rounds, but the regret is for a small mistake in the third sector, in which he dropped a couple of tenths. It still remains a good starting position for Race 1.
Superpole:
P 1    J. Rea    1.26.041
P 2    A. Bautista   + 0.068
P 3    D. Petrucci     + 0.164
…
P 11   P. Oettl   + 0.688
The race turned out to be one of the best for Philipp from Australia at the start the season. Convinced, determined, with a good pace that lap after lap brought him closer to the Top 5. He was never able to definitively close the gap to attack, keeping the group with Locatelli, Lowes, Bassani and Sykes close at hand, in one second gap. At the end, while he was defending ninth position from Scott Redding, a sudden engine problem forced him to retire immediately, with four corners to go. It hurts, because the results give morale and we needed a good performance today, but the race gives confidence for tomorrow!
Race 1:
P 1    A. Bautista    33'28.763
P 2    T. Razgatlioglu    + 3.781
P 3    J. Rea    + 6.115
DNF   P. Oettl
Philipp Oettl (Rider):
"Today we had a good day, and the race was positive in terms of speed.  I think we can say we had bad luck, half lap to go we had a technical problem and I had to stop the bike. Now we found the issue and we will be ready for tomorrow. Our Ducati works really good here in Donington, I needed that feeling back with the bike. Tomorrow we can achieve a good result, but in this moment I need results even if I know that this type of issue could happen in racing!"
Denis Sacchetti (Team Manager):
"It's a strange weekend because the weather conditions didn't give us the opportunity to work on the bike and much less to get any indications on the choice of tyres, but I must admit that we have always been very fast and competitive, except in qualifying, where we missed a couple of tenths to be in the first 2 rows. In the race all the riders made a conservative tyre choice and therefore we were all in the same conditions, and Philipp showed a very fast race pace, I would say that if he could be in the top 5 in the early stages of the race, he would be able to keep these positions. Unfortunately, in this historic period of WorldSBK, the start and the first 2 laps are affecting the progress of the races too much and therefore the final result. In conclusion, I think we are back as competitive as we were at the start of the season, and this is thanks to the whole team who worked and always believed in us by finding the solution to our problems that appeared from Mandalika, now we have to take the last step, which is to find the speed on the flying lap, to start from the front, and stay with those who have our pace. "
SATURDAY PICS: CLICK HERE