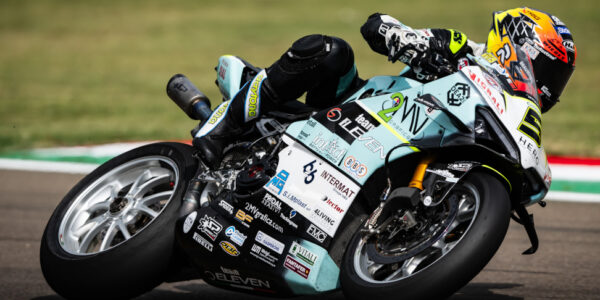 FIRST TIME AT IMOLA, PHILIPP OETTL ENDS IN P 13!
One word to describe Imola? Hard, really hard. The first laps on the Santerno track left Philipp speechless; really spectacular and complicated to understand the blind corners. As the German rider himself admitted, here the "timing" with which to set the lines is fundamental. After a complicated first session, Oettl was able to improve on his references, finishing close to the top ten. Today he was used to know the track, from tomorrow it will be essential to look for the laptime.
In the first free practice Philipp made a long run at the beginning of the session to get familiar with the track. Following some riders he managed to improve, however showing some difficulties in the second sector and in the last chicane. Few changes required, the Imola track has very little grip and the heat made it even more slippery. Position out of the fifteen, for a really arduous session, in which the German rider took more than a few laps to understand the layout.
Free Practice 1:
P 1   T. Razgatlioglu   1.47.661
P 2   J. Rea   + 0.003
P 3   A. Bautista    + 0.030
…
P 19   P. Oettl   + 2.011
The second session was decidedly better; track over fifty degrees of asphalt, Oettl immediately improved going down to the low 49. Today the track was much slower than in 2019, due to the high temperatures. Three red flags interrupted the session, so it was not possible to show a real race pace over the long distance. In the final Philipp was able to improve further, staying close to the top ten, but the gap from tenth place is quite high, around seven tenths. Tomorrow, after an entire day, things will definitely be much simpler for all the rookies at Imola and we will see the real values on the track.
Free Practice 2:
P 1    M. Rinaldi    1.47.128
P 2    A. Lowes   + 0.151
P 3    G. Gerloff     + 0.326
…
P 13   P. Oettl   + 1.558
Philipp Oettl (Rider):
"I am not unhappy about today; from FP 1 to FP 2 we had a big step and we found the right way for tomorrow. I will check all the data, cause I think I have a bit to improve in the riding here. Imola is really difficult, the first laps I really had to understand where were the corners. I think here I have to ride smooth, but there are really hard breakings, the timing here needs to be perfect to find the best lap!"
FRIDAY PICS: CLICK HERE