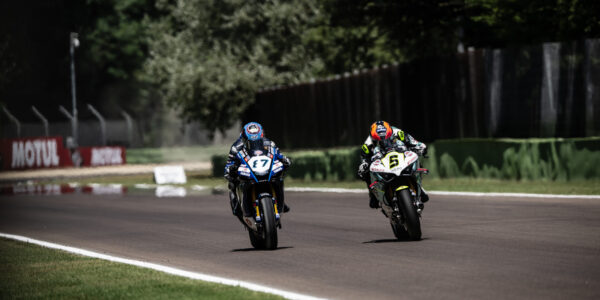 NO POINTS IN RACE 1, DUE TO A TECHNICAL PROBLEM!
Once again, after Donington, Saturday does not smile at Team Go Eleven. First an unfortunate crash in Superpole due to a misunderstanding with another rider, then Race 1 finished after just a few laps. A not exactly lucky period, which will have to turn around from tomorrow on!
In FP 3 Philipp made a comparison between the rear compounds; first he evaluated the drop of the qualifying tyre with a view to the Superpole Race, then the B800, in view of Race 1. The cooler temperatures and above all a tyre that was perhaps not perfect did not allow for a real time attack. However, the datas collected for the weekend are useful.
Free Practice 3:
P 1   M. Rinaldi   1.46.389
P 2   A. Bautista   + 0.073
P 3   S. Redding    + 0.312
…
P 18   P. Oettl   + 1.644
In qualifying, once again, practically everything happens; Oettl on the first lap finds Ruiu slower in turn two, he tries to avoid him on the outside, but the track is finished. Crash at high speed, fortunately little damage to the bike, so much so that the German rider manages to return to the garage. Excellent work by the mechanics who put it back on track in about 4 minutes. In the last available lap he manages to snatch an eighteenth position, which slightly saves the race. Definitely better than starting last, but we need a good comeback and lots of overtaking in Race 1.
Superpole:
P 1    T. Razgatlioglu    1.33.017
P 2    A. Locatelli   + 0.058
P 3    A. Bassani     + 0.103
…
P 18   P. Oettl   + 1.722
About Race 1, once again, there is little left to say. After just six laps, when the German number 5 was fighting with Gardner, a technical problem forced him to pit. He had to stop and really a lot of disappointment for the whole Team. Too bad not having been able to see the race pace and having collected informations for Sunday.
Race 1:
P 1    A. Bautista    34'10.316
P 2    T. Razgatlioglu    + 3.672
P 3    J. Rea   + 7.847
…
DNF   P. Oettl   
The beauty of Superbike is that Sunday allows you to delete Saturday, providing two new opportunities; two races, it will be necessary to find a good set-up today to try and recover as many positions as possible tomorrow.
NEVER GIVE UP!
Philipp Oettl (Rider):
"Today is a really bad day for us! In Superpole I had an incomprehension with another rider and I had a quite hard impact. The bike was ok, i rejoined and my mechanics did a fantastic job. I could qualify in P 18, that's not our goal, but was a couple of rows better. Race 1 was unlucky again, engine problem and the Race was over. During these last races things are not going as we would like to, i think we have the pace for the Top Ten, but every time something happens. Two more races tomorrow, i will go for it!"
Denis Sacchetti (Team Manager):
"Today was truly a day to forget; this year in qualifying luck never turns on our side, something external happens that penalizes us almost always. Today Philipp had to avoid another rider, crashing on the first lap of Superpole. The guys in the garage did a great job getting Philipp back on time, and he managed to gain a few rows. The race didn't last very long, we were fighting close to the top ten and a technical problem excluded us. We identified the problem, unfortunately it happens in racing, it will be solved for tomorrow, but we are really sorry. Philipp deserved to finish his first race at Imola!"
SATURDAY PICS: CLICK HERE