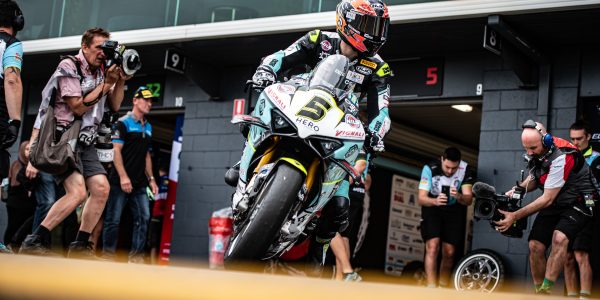 WORLDSBK BACK TO BACK, THE FIRST ROUND AT MOTORLAND ARAGON!
WorldSBK has definitively entered the last and decisive part of the 2023 season; two back to back races, one after the other, in two very hot weekends for the Superbike will be the preamble to the grand finale in Jerez de la Frontera. Motorland Aragon hosts Round 1; recently built, highly spectacular circuit, perhaps one of the most complete of the entire calendar. High-speed passages, some parts to manage, such as the fearsome Turn 2, the first right after a very long sequence on the left tyre shoulder, a long straight and several changes of direction.
Philipp Oettl and Team Go Eleven come in the land of Aragon from the best weekend of the season after Australia, in terms of points earned and speed shown. There was a lack of aggression in some moments of the race, which would have led to an even more convincing result. The rider and the technicians have found the right path again for a couple of rounds, and Motorland Aragon is the right opportunity to further confirm the progress made. Philipp adapts very well to the layout of the circuit, here last year, at the first European round, he was constantly close to the top ten. Furthermore, the Ducati Panigale V4-R is well suited to the Spanish ups and downs, a track on which also overtaking could be easier. Pirelli, the unique tyre supplier, brings a new front solution here to Aragon, the SC0, which should guarantee extra grip; on Friday it will be evaluated to understand its real potential.
Now all that remains is to wait until tomorrow to let the track speak, and follow us in this start of the season finale!
Friday 22-09-2023:
9.45-10.15, Supersport 300, Free Practice 1
10.30-11.15, Superbike, Free Practice 1, 
11.25-12.10, Supersport, Free Practice 1
14.15-14.45, Supersport 300, Free Practice 2
15.00-15.45, Superbike, Free Practice 2, 
16.00-16.45, Supersport, Free Practice 2
Saturday 23-09-2023:
9.00-9.30, Superbike, Free Practice 3
9.45-10.05, Supersport 300, Superpole,
10.25-10.45, Supersport, Superpole,
11.10-11.25, Superbike, Superpole, 
12.40, Supersport 300, Race 1,
14.00, Superbike, Race 1, 
15.15, Supersport, Race 1,
Sunday 24-09-2023:
9.00-9.15, Superbike, Warm up
9.25-9.40, Supersport, Warm up
9.50-10.05, Supersport 300, Warm up
11.00, Superbike, Superpole Race,
12.30, Supersport, Race 2,
14.00, Superbike, Race 2, 
15.15, Supersport 300, Race 2,
Philipp Oettl (Rider):
"I am looking forward to this weekend! My first goal is to achieve similar results as in Magny-Cours, but I think we can even improve some of the problems we had last Round, where I struggled in overtaking. Many riders tested here, but we will give our best as always. I like this track, it's really challenging, so I can't wait to see what we can do!"