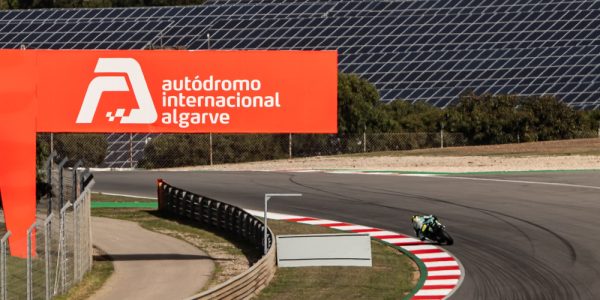 TWO WHEELS' AMUSEMENT PARK – AUTODROMO DO ALGARVE – WELCOMES WORLDSBK!
The most awaited track of the year, together with Phillip Island, one of the most breathtaking and incredibly spectacular two wheels tracks, is preparing to host the penultimate WorldSBK Round. Sun, wind, mild and pleasant weather, combined with fast parabolic turns, ups and downs to "jump", blind hotspots and a long straight; the 
Autodromo International do Algarve
 boasts one of the most difficult and complicated layouts of the whole calendar, one that tests both riders and bikes to look for the perfect set-up.
Philipp and the Go Eleven Team come to Portugal after a convincing performance at Motorland Aragon, where the German rider found back the feeling and speed of the start of the season, combined with a great solidity of results. Portimao is a track that is well suited to the characteristics of number 5, a track where last year he brought out great speed from the last sector. The first real contact at the beginning of the season with the 2023 version of the V4-R took place right here, among the Portuguese ups and downs, thus providing a basic idea for the geometries with which to tackle the first free practices. For Round 12 Pirelli brought similar tyres to those used in Australia; no SCQ, the Superpole will be held with the SCX, while for the long races the rear SC0 and a variant of the SC1 will be available, "harder" carcasses than those used in less challenging circuits in terms of tyres.
The expectations for the penultimate event of the 2023 season, at Go Eleven, are high, aware of having potential and the possibility of fighting within the Top 8. All that remains is to wait for the feedback from the track, starting from Tomorrow!
Friday 29-09-2023:
9.45-10.15, Supersport 300, Free Practice 1
10.30-11.15, Superbike, Free Practice 1, 
11.25-12.10, Supersport, Free Practice 1
14.15-14.45, Supersport 300, Free Practice 2
15.00-15.45, Superbike, Free Practice 2, 
16.00-16.45, Supersport, Free Practice 2
Saturday 30-09-2023:
9.00-9.30, Superbike, Free Practice 3
9.45-10.05, Supersport 300, Superpole,
10.25-10.45, Supersport, Superpole,
11.10-11.25, Superbike, Superpole, 
12.40, Supersport 300, Race 1,
14.00, Superbike, Race 1, 
15.15, Supersport, Race 1,
Sunday 01-10-2023:
9.00-9.15, Superbike, Warm up
9.25-9.40, Supersport, Warm up
9.50-10.05, Supersport 300, Warm up
11.00, Superbike, Superpole Race,
12.30, Supersport, Race 2,
14.00, Superbike, Race 2, 
15.15, Supersport 300, Race 2,
Philipp Oettl (Rider):
"I really enjoy riding in Portimao, it's one of the most difficult track on the calendar, but it's exciting! I think we worked in a really good way both in Magny-Cours and Aragon, we have to go on this way, be calm, find the correct balance on Friday and Saturday morning. A similar Superpole to Aragon would be great, it's obvious, but it's what can change the weekend. So let's keep our head down, keep focused and let's see where we will be tomorrow evening!"