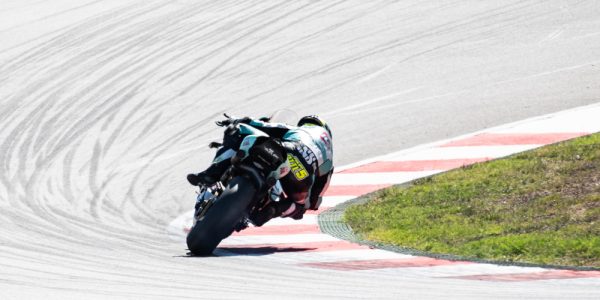 P 12, TWO TENTHS TO FIFTH PLACE, WEAK POINT IN THE THIRD SECTOR!
A tight, or rather very tight, day in terms of gaps between WorldSBK riders at the Autodromo International do Algarve; from fourth to fourteenth, all within half a second, with several protagonists showing a fast and similar race pace, including the Go Eleven German rider. When the gaps are narrow, on such a technical and spectacular track, qualifying is even more important; starting in the first three rows will be the target of tomorrow morning.
FP 1 saw the "usual" work of Team Go Eleven, race tyre, which here in Portimao will be the SC0, on track until 20 minutes from the end, small set-up change and riding again until the end of the session, focusing the work on the race pace and maintaining used tyre. Top Ten, with some opponents who tested the SCX, significantly improving their references.
Free Practice 1:
P 1   G. Gerloff   1.40.763
P 2   A. Bautista  + 0.433
P 3   J. Rea    + 0.631
…
P 10   P. Oettl   + 1.021
For FP 2, the warm Portimao pushed the asphalt temperatures close to 45 degrees; Philipp starts the session with new tyres, to do a long run again, so as to collect as much data as possible in view of the long races. All laps timed between 41.8 and 42.1; very very constant, with the German rider saying he was happy and satisfied also in terms of feeling and responses from the Ducati Panigale V4-R. In the final minutes Oettl was able to take advantage of a new set of tyres, immediately improving half a second, placing himself close to the top ten, two tenths from fifth place. The track is one of the most difficult in the world, but the WorldSBK riders have all reached their limit very close to each other, and, after such a closed and restricted Friday, it is difficult to understand what to expect from tomorrow's race and create expectations.
Free Practice 2:
P 1    A. Bautista     1.40.476
P 2    M. Rinaldi   + 0.351
P 3    D. Petrucci     + 0.542
…
P 12   P. Oettl   + 0.910
For Saturday, the Go Eleven technicians will have to work and understand how to improve the third sector, one of the most technical; today the German rider was taking too much gap, being one of the slowest on the track in those few corners. With just a couple of tenths found, we could aim for an excellent performance, so it is essential not to leave anything to chance and carefully analyze the areas in which there is room for improvement!
Philipp Oettl (Rider):
"Today we had a solid day, quite similar to Aragon! Maybe we are a more close together, so we have to work, mainly in our third sector. Race pace wasn't too bad, but we have areas where to improve. We have been all the session inside the Top Ten, then we finished a bit outside it, I am quite ok on the bike. Portimao is a really challenging track, it's amazing to ride here, but it has some really hard sectors. I am quite sure we can find a way in sector three, so let's keep working!"
FRIDAY PICS: CLICK HERE