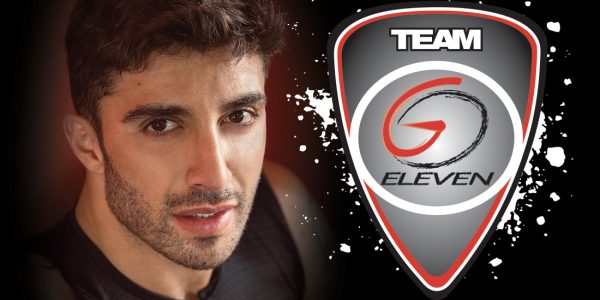 ANDREA IANNONE IS BACK ON THE TRACK WITH GO ELEVEN: THE PAIRING FOR 2024 WORLDSBK CHAMPIONSHIP!
Andrea Iannone is ready to come back and will do so on board the Ducati Panigale V4-R of Team Go Eleven in the 2024 Superbike World Championship.
Four years after the last race held, the passion and love for motorsport bring Andrea Iannone back to the track in the WorldSBK.
First winner of the new Ducati MotoGP era – 14 victories, 10 Pole Positions and 35 podiums in the MotoGP, of which 11 in the premier class between Suzuki and Borgo Panigale – will have at his disposal the Rossa in the 2024 RS version of Team Go Eleven, the satellite team led by Gianni Ramello and Denis Sacchetti.
The agreement between Andrea Iannone and Team Go Eleven is a one year deal, for the 2024 season, with an option to extend the contract in 2025. The first ride of Andrea Iannone on the Ducati Panigale V4-RS prepared by Team Go Eleven will take place in the Jerez tests, on 31/10 and 01/11.
Andrea Iannone (Rider):
"I've been waiting for this moment for a long time, I'm finally back on track, where I spent my life. I thank Gigi Dall'Igna, Paolo Ciabatti, Claudio Domenicali, Marco Zambenedetti and the whole Go Eleven team for their trust, with their support I have rediscovered the enthusiasm I had as a child. Special thanks also to the WorldSBK family for the opportunity. I'm fully excited."
Gianni Ramello (Team Owner):
"Since its birth, Go Eleven has tried to achieve increasingly important goals and with the move to Ducati we have come closer to our desire. Despite being a private team we achieved a victory, several podiums, we won a Best Independent World Title, we gave world-famous riders the opportunity to defend our colors with excellent results demonstrating that our Team has done a great job. Now we found ourselves having to take a further step and achieve another goal, a new challenge, and this time it will be more hard and challenging. A rider like Andrea has not only shown over the years that he is fast and truly talented, but he is also certainly a public character of great interest. The challenge is even more stimulating because we jumped at the chance to have Iannone return to a World Championship after 4 years and I can guarantee that we will work hard to get to the positions that count, we strongly want to show that we have made this decision because we believe in potential of the rider, and we are sure that he will give his all to achieve great results.
I can only thank Andrea for choosing our team, giving us great importance and showing that the excellent work is highly appreciated, and also because he has shown the courage to face this new challenge which is not at all simple. I thank all the Ducati management who gave us strong motivation to start this project and I thank my Team who has always shared our projects for better or for worse driven by motivations that excite me, all of them want to win as I do and this, added the certain desire that Andrea will also have, will be a further boost for the 2024 season!"
Denis Sacchetti (Team Manager):
"We have worked hard to make this dream real, we have wanted to shout it out to the world for some time now, but creating such an important project is not easy and must be structured carefully. The Maniac has decided to get back into the game, it's not for everyone, it takes guts after everything that has happened and so much time away from racing. It is a courageous choice, for some it may seem crazy, but the right dose of madness and courage can lead to great feats. Why this bet? When we started talking to him, we were impressed by his determination, grit and desire to go back doing what he loves, I saw in his eyes the desire and need to race a motorbike, like a child who wants to go back playing and everything that happens around him is out of his mind, because he just wants to go back playing, he has no other thoughts at that moment. We know that it won't be easy, that at the beginning we will have to suffer and work a lot and hard, but this awareness unites us even more and stimulates us further. I want to thank Gianni Ramello for immediately accepting this opportunity, a particular thank you also goes to Paolo Ciabatti, Gigi Dall'Igna, Claudio Domenicali and Marco Zambenedetti for the support they are giving to this project and obviously thanks to Andrea Iannone for the trust in our team! Last but not least, heartfelt thanks to all our sponsors who allow us to take on increasingly important challenges every day, it is only thanks to their passion that it is possible to face new adventures!"
Marco Zambenedetti (SBK Ducati Project Management Responsible):
"I am happy that Andrea is back to Ducati. He is a talented rider who certainly still has a lot to give to this sport. Certainly, after such a long stop period, it will be important to give himself all the time necessary to return to being one with the bike, he will have an experienced team with the V4R at his side who will support him as best as possible this season. I can't wait to see him around the track with all the other riders."