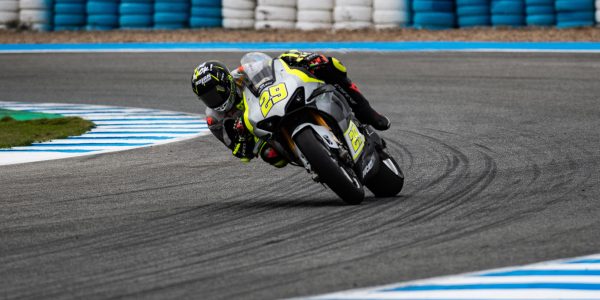 HALF DAY DUE TO RAIN, POSITIVE STARTING POINT FOR THE DUCATI #29!
Andrea Iannone's debut on the Ducati Go Eleven was interrupted mid-day due to rain; wet patches on track since the morning, which did not limit performance too much, allowing twenty-six laps to be completed in good grip conditions. SC0 tyres, the hardest available, with the number 29 finding good confidence with the Ducati Go Eleven. It is difficult to compare the on-track references of the other riders, as today many of the protagonists used soft tyres; tomorrow, when sunshine and milder temperatures are expected, should provide greater feedback from a technical point of view.
The joy on the face and the emotion of being back on the bike; Andrea showed a positive and excited spirit inside the garage, in which the staff is is finding increasing collaboration with the rider. Tomorrow, second day of testing, 10.00-18.00 in the hope of sunny weather!
Andrea Iannone (Rider):
"Getting back on the bike was nice. I'm sorry I wasn't able to ride more but the weather has gradually gotten worse since the already critical start. The bike, despite the few laps due to rain, I can say is going very well. It wasn't the perfect day to start again but we are very positive."
Denis Sacchetti (Team Manager):
"I think that in just 20 laps today Andrea proved that he still got it. Not so much for the laptime, this morning it meant nothing to us, especially considering the weather conditions, but seeing him on the trackside and inside the garage. Nice to see him with a smile, nice to see him having fun again. Andrea is creating an incredible atmosphere inside the garage, he laughs, jokes and knows what he wants and what he needs. Now it's obviously too early to talk or make performance predictions, let's hope we can ride all day tomorrow and have fun. Our goal is: just have fun!"