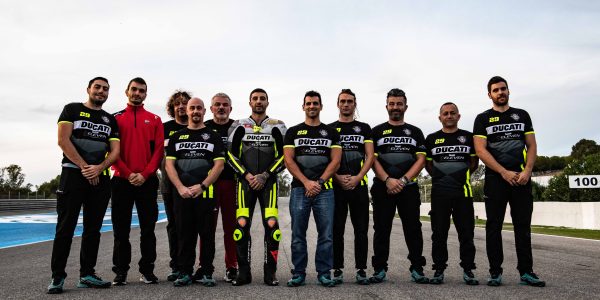 IANNONE IS READY TO DEBUT ON THE WORLDSBK DUCATI V4-R!
2023 season ended just last weekend on the Jerez de la Frontera track, it is already time for the WorldSBK circus to plan the new season. Two days of testing on the Andalusian track, which will provide various interesting subjects; someone will test the new rules in force from the next year, some others will have to find the right feeling with a new rider.
Team Go Eleven and Andrea Iannone will have their debut together on the Ducati Panigale V4-R. Finding the right ergonomics and correct riding position will be the objectives of the morning in Jerez. "The Maniac" will find himself in contact for the first time with the Pirellis, which will be used later in the Championship, with a large number of opponents, who will provide a direct comparison, as well as with the Borgo Panigale motorbike in the WorldSBK version. The team will work mainly on harmony within the garage, meeting the technical requests that Andrea will make during the day, with the final aim of obtaining a good feeling on track. The weather variable could impact the first day of testing; the forecast seems rather uncertain, and in Jerez the track dries very slowly.
All that remains is to wait for the opening of the Pit Lane!
Andrea Iannone (Rider):
"I'm finally back on track tomorrow. I can't wait to try the new bike, I'm very happy. There will be many variables, from the tyres to the rider position, the goal is to stay focused and work well with the team to make the most of these two days of testing."
Denis Sacchetti (Team Manager):
"We are already in 2024, just enough time to have a toast on Sunday evening with colleagues to conclude 2023 season, and we are already here at the circuit working like crazy to be ready for tomorrow's debut. A day that I think many are waiting with great curiosity, and I can't stand it anymore! Tomorrow we will have to maintain the emotions, and the only thing I want, honestly, is that Andrea enjoys this moment without thinking about anything, without thinking about the time attack, the opponents, the objectives. We will have time for these things, now he just has to enjoy riding a motorbike again, re-embracing his greatest passion!"