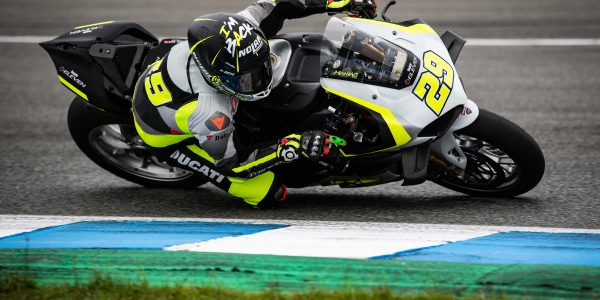 EIGHT TENTHS FROM THE TOP, ASTONISHING PERFORMANCE AT THE END OF DAY-2!
No one questioned that Andrea was a talent; but it was almost impossible to expect that, after 4 years without riding a racing bike, five years after his last race in Jerez de la Frontera, he finished the first pre-season tests around eight tenths from the first of the day.
Today, finally a complete day of test, thanks to the warm sun of Southern Spain, The Maniac was able to start working on the bike, testing all types of tyres, both in hot asphalt conditions and with the fresh wind towards the evening. The work on fine-tuning the electronics and the comparison with the other riders was also important, a fact which allowed the number 29 to lower the references session after session, improving mainly in the second part of the track. He did the low 40 pace several times, then in the last hour he opted to use the SCQ. Usually, it is not easy to exploit this particular tyre with extra-grip at the first attempt, 1.39.335, almost eight tenths improved, ending in fifth place.
Despite the tiredness and arm pumps, due to little training on this type of very physical motorbike, the laptime obtained surprised most of the paddock staff, almost exceeding all expectations. There is still a lot of work to do, especially on the race pace, but the smile that Andrea showed at the end of the day fills the hearts of the whole team. He has his head down and a lot of work, with the aim of further sewing the bike together in view of the next tests, at the end of January!
Andrea Iannone (Rider):
"Today was certainly a positive day because we managed to lap much more than yesterday, this allowed us to better understand the bike and the tyres which performed very well. The approach on the Panigale was a shock for me lightning fast. It's a bike that has very high power, and today my arms suffered a little from this. I thank Ducati and the Go Eleven team for all the effort they put into this test. It has been crucial our positive mood to face this tests."
Denis Sacchetti (Team Manager):
"Today Andrea sent a strong message, the desire to come back racing is very high and has left everyone, including ourselves, speechless! I am happy not for the laptime, but for the approach he had, his working method and the smile he showed today when he got off the bike. That smile counts more than all the data a monitor can show us!"